UltraSnap™ - ATP Surface Test (Hygiena)
UltraSnap is a user-friendly, all-in-one ATP sampling test used with Hygiena luminometers. This pen-sized sample collection device is easy to use, small, and environmentally friendly. In addition, UltraSnap uses a unique liquid-stable reagent providing superior accuracy, longer-lasting signal strength, and more reproducible results.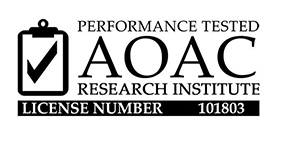 NEW AOAC-RI certification!  
Key findings from the third party study:
UltraSnap™ had very low limits of detection – down to 0.77 RLU
UltraSnap™ detected ATP on surfaces at dilutions of 1:1,000 or lower
UltraSnap™ produces consistent results with no statistically significant variability

Benefits:
Costs up to 50% less than other ATP swabs
Consistent, reliable results in 15 seconds
Pre-moistened swab bud
Self-contained, liquid-stable reagent
Write-on swab label for easy sample identification
Environmentally conscious design - uses 20 - 80% less plastic than comparable devices
Patented Snap-Valve™ technology - snap & squeeze
Unprecedented accuracy and reproducibility
Tolerant to temperature abuse
Test wet or dry surfaces

Specifications:
High sensitivity: Detects 0.1-1 femtomoles of ATP
◦ For detection to 0.1 femtomoles of ATP, use EnSURE™
◦ For detection to 1 femtomoles of ATP, use SystemSURE 
Shelf life:
◦ 15 months at refrigerated temperatures (2-8 ºC)
◦ 4 weeks room temperature (21-25 ºC)
Compatible Luminometers:
◦ EnSURE
◦ SystemSURE Plus

ATP Cleaning Verification vs. Fluorescent Marking Gel

In this new video, Hygiena demonstrates how simply wiping a surface free of fluorescent marking gel doesn't necessarily mean a surface is free of potentially patient-harming bio-burden! Even the poorest cleaning technique can remove glow gel to provide a false sense of cleanliness - use ATP cleaning verification where cleaning really counts.


Products ship on ice in a foam box. Shipments cannot be over weekends. There is a $5.00 ice and box fee. The number of fees may vary based upon how much product is ordered and if it must be packed in one or more boxes. Feel free to contact Customer Service for specific details.