Shipping and Freight Options
Huge freight savings and faster delivery throughout the United States
A selection of our best-selling products, such as dilution bottles, now ship out of our Nevada warehouse for delivery to Western states and out of our Missouri warehouse for selected Southern and Midwestern states. Customers in these areas will realize significant freight savings.
Plus, shipments will be received between two to five days sooner.
Eastern states will continue to receive fast and economical service from our facility in New Jersey.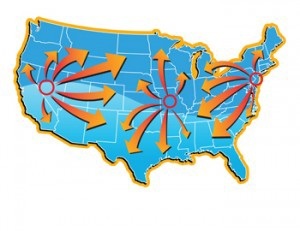 1-2-3 Day Delivery Program
Receive Your Order Within 1 and 3 Days to Any Location in the Continental
United States at No Extra Cost With Our 1-2-3 Day Delivery Program.
When you order from Weber Scientific we will route your order so that all (or part*) of your order arrives at your facility within 1, 2 but never more than 3 business days. Any upgrade in the level of service over basic UPS or FedEx ground service will be done at our expense -not yours!
Combined with our Same Day Shipping Pledge, this expedited routing program will insure prompt delivery to any location in the continental U.S. — all at no extra cost.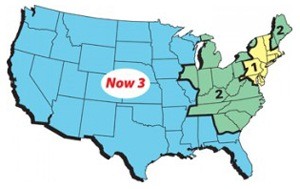 How Does the 1-2-3 Day Delivery Program Work?
Place your order by 3:30 PM (eastern time zone) and your order will ship that very same afternoon.
Based on UPS's delivery schedule (see map) your order will be routed via basic ground service if delivery is scheduled at 3 business days or less. If the UPS delivery schedule indicates more than 3 business days, we will upgrade your order to 3 Day Select service at no extra charge to you. You pay only for basic ground or hundredweight service.
How Can I Calculate the Total Delivery Days in the 1-2-3 Day Delivery Program?
This can best be explained by example. Let's say you are located in California and call in an order to us on a Thursday morning. We will give it to UPS later that afternoon. The first delivery day would be Friday, the second would be Monday (weekends don't count), and Tuesday would be the third day. All of our continental U.S. customers can now expect delivery from us by Tuesday — the 3rd business day after you've placed your order — at the very latest. Many of you will still receive your order within 1 or 2 days!
Are There Any Exceptions to the 1-2-3 Day Delivery Program?
The following types of orders require specific types of freight service that limits their participation in the 1-2-3 Day Delivery Program:
On a select number of items in our catalog, only the first case — of multiple case orders — will be upgraded to UPS 3 Day Select service (where applicable). The remaining cases will ship by ground and you should receive them within 1 – 3 days of receiving your first case. However, if you need to receive more than one case of these specially identified items within 3 days, then let us know when ordering and we will be happy to upgrade additional cases.

Perishable items that require next day or second day air shipment.

Any order containing any material defined as a hazardous material either by the DOT or UPS. However, when feasible, we will "split" your order so that you receive your regular lab supplies in 1, 2 or 3 days, while your hazardous items will arrive later on a separate shipment.

Drop ship orders from our manufacturers.

Hinged-lid containers that can be affected by the drop in air pressure during air transit, sometimes causing the containers to pop open.

Distributors are not eligible.
If your order is one of these specific types of exception orders, our customer service representative will notify you either at the time of order, or prior to shipment.