Free Monthly Gift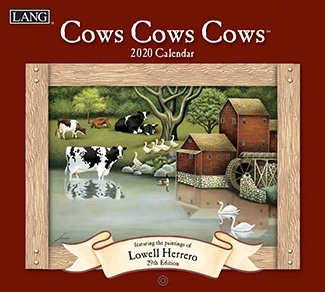 Web Special:

FREE 2020 Cows Cows Cows Wall Calendar
The Cows Cows Cows Wall Calendar features stunning artwork by Lowell Herrero of adorable cows in various settings every month. This calendar features monthly full color images printed on high-quality, linen-embossed paper that has a classic, luxurious feel, and a brass grommet for hanging. The Cows Cows Cows Wall Calendar is perfect as décor in any room in your home, office or lab.

Each calendar month is easy to glance at and see what responsibilities you have coming up, so make sure you stay organized through the year! The Cows Cows Cows Wall Calendar makes the perfect gift for yourself or anyone in your life.

FREE with every order of $250 or more.
Please include the Gift Code WS1019 when ordering via website, phone or fax.
When ordering on the website place this Gift Code in the "Notes/Instruction" field at check out (and not in the "Promo Code" box).
Customer must use the gift code for your gift when placing an order via website, phone or fax.
The free gift will not be sent automatically even if the order qualifies from a dollar volume.
Customer is limited to one free promo per order.
If a customer places more than one order during any given day, only one gift will be redeemed.
Orders may not be accumulated to be eligible.
No returns.
Offer is good only while supplies last.
---