Free Monthly Gift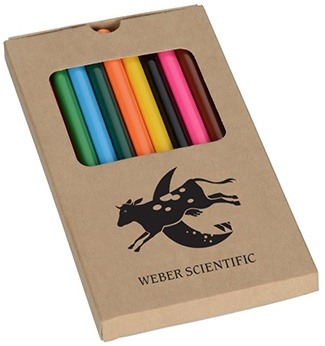 Web Special:

FREE Color Pencil Drawing Set
Colored pencil art is rapidly experiencing a whole new level of appreciation in the art world. While colored pencils were once considered to be primarily for kids, for the past few years they have been steadily gaining respect amongst artists, galleries, and collectors. Have fun and explore the creative potential of this art-making medium.
The set include 10 colored pencils, an eraser and a pencil sharpener.
Sets are stored in a natural paper box with a front cutout panel.
Pencil colors include: Black, Blue, Brown, Dark Green, Light Blue, Light Green, Orange, Pink, Red and Yellow.
FREE with every order of $150 or more.
Please include the Gift Code WS0819 when ordering via website, phone or fax.
When ordering on the website place this Gift Code in the "Notes/Instruction" field at check out (and not in the "Promo Code" box).
Customer must use the gift code for your gift when placing an order via website, phone or fax.
The free gift will not be sent automatically even if the order qualifies from a dollar volume.
Customer is limited to one free promo per order.
If a customer places more than one order during any given day, only one gift will be redeemed.
Orders may not be accumulated to be eligible.
No returns.
Offer is good only while supplies last.
---