February Newsletter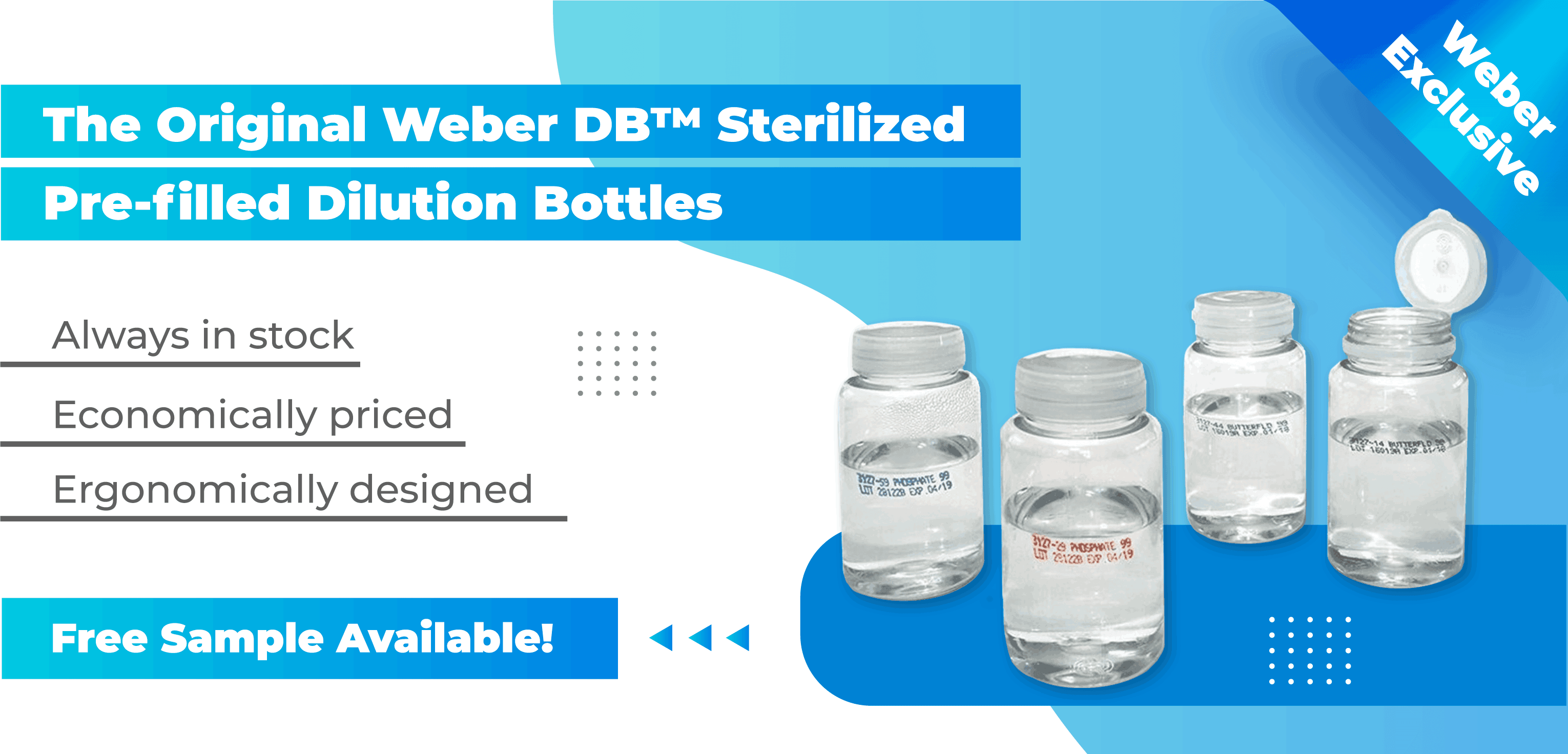 Greetings from Weber Scientific!
Our February newsletter is here along with new featured products and exciting promotions. This month we're giving our customers a an opportunity to try our products on us!
DB Sterilized Pre-filled Dilution Bottles
Check out our *FREE* Sample Program!
Interested in evaluating our pre-filled buffer dilution bottles before placing an order? We offer a free sample program providing our customers with the opportunity to "try before you buy"
Featuring an attached locking hinged-lid that stays open for easy use! Every bottle is pre-filled to 9 mL with an overall capacity of 13 mL and are available in Butterfield's Buffer.
The Original Weber DB™ Sterilized Pre-filled Dilution Bottles featuring a tamper evident sterility strip that is integrated as part of the cap. It is much easier to open and use. Never hassle with shrink bands again! Every bottle is pre-filled to either 99 or 90 mL ±2 mL, buffered to pH 7.2 ±0.2, has an overall capacity of 150 mL, and is recy­clable. Two formulations are available:
Butterfield's Buffer for foods and dairy products (APHA, FDA, AOAC or USP methods). Contains purified water, monobasic potassium phosphate and sodium hydroxide for pH adjustment.
Phosphate Buffer for water and wastewater (APHA or EPA methods). Contains magnesium chloride, monobasic potassium phosphate and sodium hydroxide for pH adjustment.
Take advantage of huge savings and faster delivery throughout the United States
Dilution bottles ship out of our Nevada warehouse for delivery to Western states and out of our Missouri warehouse for selected Southern and Midwestern states. Customers in these areas will realize significant freight savings plus shipments will be received sooner.
Now, the filtered wort must be sterilized through a controlled boil in a kettle. During the boil, which takes an hour or two, the brewer adds flavoring, usually in the form of hops. These small flowers act as a natural preservative while adding bitterness, taste and scent to the beer, depending on when they're added to the boil.
Eastern states will continue to receive fast and economical service from our facility in New Jersey.
Claim your free Insulated Travel Mug!
FREE with every order of $300 or more
Featuring a cool blue stainless steel exterior and insulated interior to keep your hot drinks hot this winter.
Please include the Gift Code WS0222 when ordering via website or phone.
When ordering on the website place this Gift Code in the "Notes/Instruction" field at check out (and not in the "Promo Code" box).
Weber Scientific to attend Seafood Expo North America
Visit our booth at the Seafood Expo Tradeshow!
The 2022 conference will feature over 25 sessions, presented by top industry experts. Attendees will take away informative, engaging and practical information covering the most important and timely issues relevant to today's seafood business environment.
Weber Scientific's beer testing tools ensure that only the right strains of brewer's yeast grow in the wort. Why does this matter? Wort's high sugar content means it is a friendly medium for the yeasts that convert sugars into alcohol, such as Saccharomyces cerevisiae yeast for ales and S. pastorianus for lagers. But those high sugar levels mean wort is an ideal home for other, less desirable microorganisms as well.
To learn more about our upcoming tradeshows, click here: Upcoming Events!